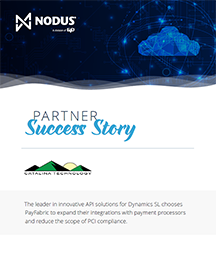 Catalina Technologies chooses PayFabric to expand their integrations with payment processors and reduce the scope of PCI compliance
Being in the payment space, Brian realized that payment flexibility was important to his customers, but also required a lot of effort from him and his team to manage. They were trying to support and maintain integrations with more than five payment processors, each with their own quirks and development interface.
---
Mekorma utilizes Nodus to automate their recurring billing process and secure their credit card data
With a growing customer base, Mekorma needed to implement electronic payment processing to provide their customers easy and convenient payment options. They looked to the first credit card processing solution for Dynamics GP – Nodus Credit Card Advantage.
---
IcoStore uses Nodus' eCommerce to scale quickly in the competitive promotional goods industry
Nodus' solutions rose to the top during the selection process due to their integration capabilities with Microsoft Dynamics GP, the openness of the combined platform, and the ability to customize the online storefront to meet iCoStore's specific needs.
---