One of the biggest struggles for businesses in 2020 has been how to continue to generate and collect revenue while the world has been working remotely. With all of the sudden change in how consumers are able to make purchases, companies have had to act quickly to stay up and running.
In 2020, companies who did not already have a digital payment strategy in place began adopting electronic payments. Physical checks and cash are harder to collect when the majority of people are working remotely, so companies started accepting electronic payments, like credit cards. Credit cards offer real-time, touchless payment options for customers while also providing a quicker settlement time to increase cash flow for businesses.
Mastercard conducted a survey of small business owners across North America regarding digital payment adoption during the pandemic. The consensus was that companies have shifted to more digital, automated ways of accepting payments from their customers.
64% are trying to steer their clients away from using physical payments like cash and checks
50% added a new digital service for collecting funds
1 in 4 businesses moved to electronic invoicing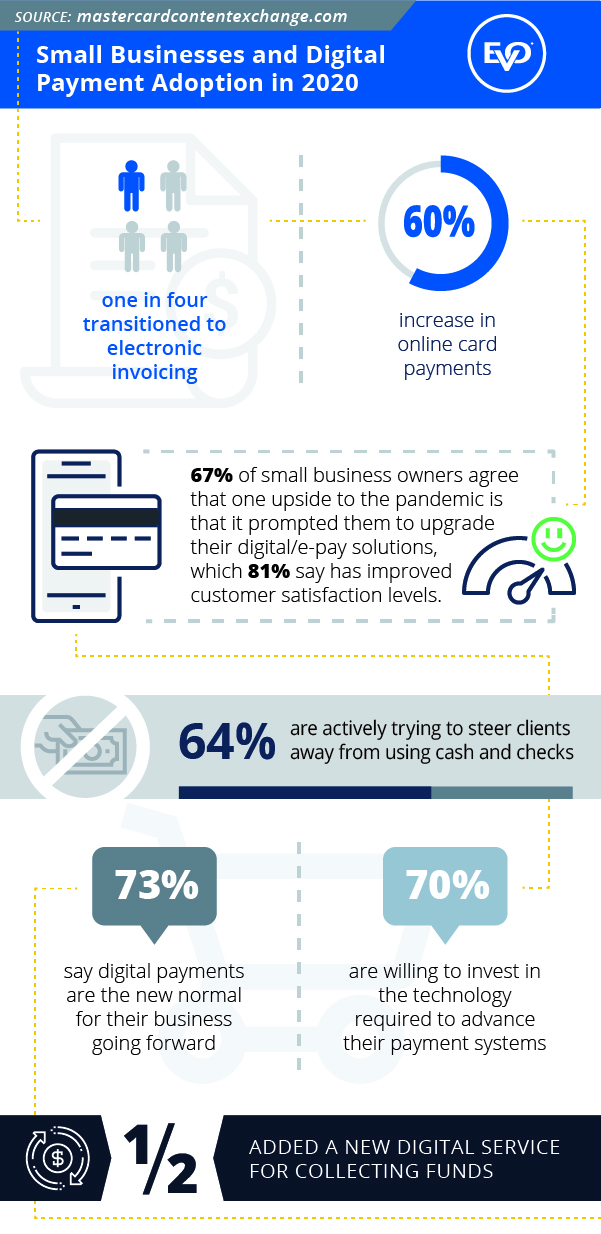 There has also been a shift to make the accounts receivables process more automated. The inconvenience of paper invoicing and checks increased substantially during the pandemic, so companies began looking for more efficient ways to deliver bills and collect payments.
Online billing increased in popularity because it offers a touchless bill paying experience that allows customers to pay anytime and from anywhere. It can also improve customer satisfaction by offering flexibility and convenience throughout the billing process.
Looking Forward
Although the 2020 pandemic created urgency for companies to switch to a more digital accounts receivable process, most of them have come to realize the value of digital payments and are not likely to revert back to the manual, more labor-intensive processes that they were using before. According to the Mastercard survey…
Over 70% of surveyed businesses said that digital payments are now their business' new normal.
Over 80% of small business owners say that upgrading their digital/e-pay solutions improved their customer satisfaction levels.
About Nodus
If you are looking to adopt a digital payments strategy, Nodus can help. We will evaluate the areas of your accounts receivable process that may be slowing down your cash flow and creating more work for your team. We can also set up a credit card processing account in as little as 2 days and an online customer payment portal in a matter of minutes.
Contact us today at 909-482-4701 ext 1 or sales@nodus.com.